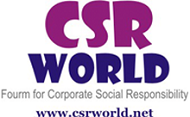 Introducing CSRworld
CSRworld has a vision to create a vibrant and all encompassing platform for CSR (corporate social responsibility) thought and action. CSRworld has multiple dimensions - showcase CSR practices and case studies of corporates, highlight NGOs and projects which need support and funding from CSR budgets, listing of companies whose products and services will be utilised in implementing CSR projects, showcase social enterprises who combine the best of entrepreneurship and social good, news and views related to CSR and more. Be part of CSRworld, get noticed and benefit yourself and others.
Banwasi Seva Ashram


Banvasi Seva Ashram (BSA) is a voluntary organisation believing in Gandhian principles of life. Banwasi Seva Ashram came into existence in 1954 when its primary work area - South Sonbhadra (then South Mirzapur) - was in crisis, due to a severe famine. The credit goes to its founding fathers, Shri. Govind Vallabh Pantji, then the Chief Minister, and Gandhian Shri Vichitra Narain Sharma, the founder chairman of the Ashram.

Lotus Medical Foundation, Kolhapur


A health based NGO; LMF was born out of the common desire of likeminded individuals, of reaching the most disadvantaged and the vulnerable with the right and affordable medical services. LMF initiated its operations in 1999 by starting a Para medical and Nursing College in Kolhapur District to create a source of trained staff to the existing medical service centers towards the provision of efficient medical services to the needy. The colleges, with their objectives intact functioned from 2000 to 2008.

Step Up Foundation, Pune


Step up foundation (Reg no- MH1479/2010/Pune) is a non-profit organization registered with the office of charity commissioner, Pune, India. In 2010 we started working for children and women. Emphasis was on child and adolescent development. We started with few projects like education sponsorship- support classes, adolescent education and vocational training for women. Eventually we shifted our focus on adolescent education program at large.
Corporate Initiativesview all
Tata Power Mundra UMPP's Project 'Sagarbandhu' for the fishermen community




Gujarat is India's largest marine fish producer, mostly due to its 1640 km long coastline supports four lakh population of fishermen and women. These fisherfolk bring in large amount of business in the state with stark contrast to the northwest area of Kutch where the fishing sector is suffering with a mere 12 per cent of the fish brought in, even though it has the longest coast line.

Tata Power empowers women through Self Help Groups (SHGs) in Kutch Region of Gujarat




Today, the Kutch region of Gujarat is representative of the synergistic relationship between corporates and communities working in tandem to facilitate holistic rural development. This is a major step forward as not too long ago, in the absence of developmental activities, the local communities of the region were solely dependent on grazing livestock or fishing to earn their livelihood.

CSR initiatives of Visaka Industries Limited




As a responsible Corporate Citizen the management of Visaka has always held the view that the Corporate who benefit from the Society should pay back to the Society by taking up activities which would help uplift the standard of living of the people. Therefore Visaka Charitable Trust was established in the year 2000. The CSR activity of the trust supports programs devoted to the cause of destitute, rural poor and providing the basic necessities of life.