Projects
Disha Boys Hostel Leimakhong, Manipur
Brief History
Manipur is a state highly affected by insurgency. Poverty and lack of avenues force young children to join the path of insurgency. There is a need to save these young boys by providing them safe environment and opportunities.
DISHA Boys Hostel, Manipur, established and run by the Red Shield Division of the Indian Army is a home of hope for talented but destitute children of Manipur. DISHA provides them with facilities and opportunities as available to children in other states. The objective also includes imbibing nationalistic values and nurture and empower children to become responsible and capable citizens.
The idea of DISHA germinated at Kumbirgram Airport on 10 Jun 2008 during a discussion between Lt Gen V K Singh, AVSM, YSM, GOC-in-C, Eastern Command (Later Gen VK Singh, PVSM, AVSM, YSM, ADC, the COAS, & Minister of State for External Affairs) and Maj Gen T S Handa, SM, GOC, Red Shield Division. The then Army Commander felt that in the militancy affected state of Manipur, it would be appropriate to set up a boy's hostel where children from the weaker sections of society could be given a platform to excel. It was also envisioned that 'DISHA' in no way will be equated with orphanage. All children will be called DISHA boys.
The task of establishing DISHA was entrusted to 165 Infantry Battalion (TA) (H&H) ASSAM since the troops of this Battalion are from Manipur. A suitable location was identified near Leimakhong Military Station and Army Barracks were made available for the hostel. Initially, there were no funds available for the Project. All the units of Red Shield Division pledged their support to ensure that the project starts off. Some funds were made available by Red Shield Division, AWWA (Army Wives Welfare Association). In addition, the project was also brought under the purview of SADBHAVANA. In Sep 2008, at the time of inauguration, 10 Children ranging from class 6th to 12th were selected out of 41 applicants. Next year, the capacity was increased to 25 and 10 more boys were selected out of 161 applicants.
With continued patronage from the Army, DISHA has now been expanded into a full fledged facility with four dormitories, Recreation Room, Table Tennis room, Library, Dining Hall, Office, Caretaker Room and Kitchen etc. Today DISHA has 25 Students studying in classes from 6th to 12th with one of them in Sainik School, Imphal. His fee and all other expenses are borne by Disha.
A Total 17 children have already passed out from DISHA. The list of alumni incl a students pursuing MBBS from Russia, civil engineering in Delhi, two studying in Delhi University, seven pursuing graduation with seven have joined Indian Army.
Over the years, DISHA boys have earned many laurels with their hard work nurtured by DISHA. The Hostel has been regularly visited by various dignitaries from Army and civil including the Hon'ble Defence Minister, Shri A K Anthony, Dr Nazma Heptullah, Hon'ble Governor of Manipur & several others.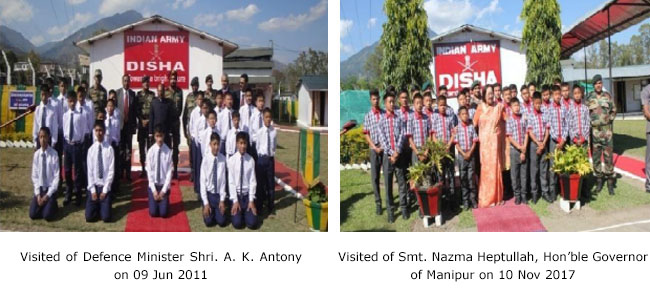 Eligibility Criteria & Selection Procedure
Underprivileged children of the society & studying in class III to VII are admitted in DISHA hostel. Fresh batches are admitted at the beginning of the school session.
Details of the potential candidates for DISHA are obtained through Army units spread across Manipur. Units are responsible to identify and recommend disadvantaged children for admission by 31 Dec of every year. Careful screening is carried out to select the most needy and deserving students by a 'Board of Officers' nominated by Head Quarters 57 Mountain Division. Final list of the selected children is approved by the Patron-in-Chief and the Patron by 25th Mar of the year. Indemnity bond are furnished by the persons or the organization sponsoring the child and selected children join DISHA before the start of new session.
Facilities & Amenities
All the children are admitted in Kendriya Vidyalaya, Leimakhong. Admission and School fees are paid by DISHA. One student is presently studying in Sainik School, Imphal and his fee is borne by DISHA.
DISHA bears all the expenses of the boys including their school fees, books, uniforms, dresses, food, accommodation and all other miscellaneous requirements like toiletries and sports & games items & other ancillaries etc. A recreation room consisting of TV, satellite TV connection, Newspaper & magazines and a small library is maintained. A students' mess has been provided with necessary amenities like RO plant, fridge, water cooler, gas etc. All meals, milk and packed meals for school are catered for the boys. Dormitories & living accommodation have adequate & orderly boarding arrangements.
Resident staff is of two Army personnel. A caretaker couple called 'parents' is hired on salary and stays in the premises. Staff like gardener, cook, housekeeper etc is hired. Private tutor are hired on fixed monthly salary to guide students to excel in studies. Regular medical checkup and treatment is provided by the Medical Officers posted with Army Doctors.
DISHA looks after the children only upto class XII after which, children are encouraged to take on vocational training or compete for higher education and. At this stage the children are formally handed over to the sponsor who had filled up indemnity bond.
Photo Gallery of Achievements of Disha Boys