NGOs
Jnana Prabodhini – Harali
An experiment in innovative education and agriculture in the earthquake area of South Marathwada, Maharashtra, India
A Center (branch) of Jnana Prabodhini - Solapur
A Non-Governmental Organization (NGO)
A registered Charitable Trust and Society with the facility of Income-tax exemption under section 80G of the IT Act and Permission to accept donations in foreign currency (FCRA)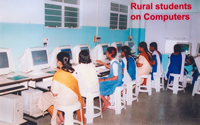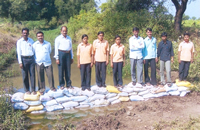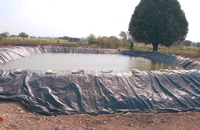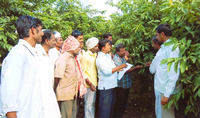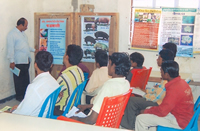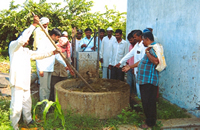 1. Project address :
Jnana Prabodhini Bhavan, At Harali, Post Toramba, Tal. Lohara, Dist. Osmanabad 413 604 Maharashtra State, India
2. Postal address :
Jnana Prabodhini – Solapur, 156 D, Railway lines, Solapur 413 001 Maharashtra State, India
3. Contact persons :
Dr. Swarnalata Bhishikar
Trustee and Center In-Charge
Cell : 08888802628
E-mail : swarnalatabhishikar@gmail.com
Commender (RTD) Abhijit Kapre
Assistant Center In-Charge
Cell : 08888802638
E-mail : abhijit.kapre@gmail.com

4. About Jnana Prabodhini - Solapur and Harali :
Jnana Prabodhini - Solapur is an NGO, a non-profit charitable trust registered under Societies' registration act and Bombay Public Trusts Act
Jnana Prabodhini – Harali is a rural center of Jnana Prabodhini - Solapur started after the massive earthquake in South Marathwada (Osmanabad district) in 1993
5. Aims and Objectives
Jnana Prabodhini – Solapur and Harali aim at :
Assisting people suffering from natural calamity
Helping them lead a quality life through education, technical training and enterprising agriculture
Imparting character formation and motivation building education to students through formal and non-formal teaching
Encouraging rural women to become self-reliant by giving them training in agricultural and allied industries
6. Activities at Solapur :
A full-fledged school from pre-primary to 10th grade
A pre-primary teachers' training school
A rehabilitation center for child labour
A center for spiritual studies and meditation
7. Activities at Harali Center :
A rural residential school from 1st to 10th std
An Agricultural polytechnic with 2 years diploma course
A computer training center
Fruit plantations with 7000 fruit trees including Amla, Guava, Lime, Mango, Tamarind, Cashew-nut etc.
A fruit processing unit giving employment to rural women
Water and soil testing lab
Drip and sprinkler irrigation
Vermiculture
Sheep rearing
Use of solar, wind and bio-energy
Rainwater harvesting and recharging of bores
Plant nursery approved by government
Fabrication shop
Fly-ash block making
Center for spiritual studies and meditation
Working women's residence
Agri-tourism center recognized by Govt. of Maharashtra
A training programs' venue available to govt. and non-government agencies, industries and educational institutes
Department of quality civil construction
Center for training in classical music
8. Background :

After the massive earthquake in South Marathwada in 1993, Jnana Prabodhini - Solapur, rushed for help. Its well-wishers and past students handed over a sum of 40 lakhs for the relief work in the area. Jnana Prabodhini selected two villages initially for vocational rehabilitation and medical service.
Later, on the request of the villagers of Harali, it opened a primary and a secondary residential school in this village in 1995. In 2006, it started an agricultural polytechnic giving three years diploma after 10th std. which is affiliated to Marathwada Agricultural University.
As there is 8 hours power cut in the area, Jnana Prabodhini turned to the use of alternative sources of energy like solar, bio-gas and wind.
The NGO does not receive any grants for the schools from the government, nor does it charge fees to rural students. Marketing fruit and fruit products is a source of earning. It also gives employment to rural women.
9. Relevant information
Maps showing the center site (Annexure 1)

Osmanabad district in Maharashtra State (Annex 2)
Harali in Osmanabad district (Annex 3)

Governing and other details of Jnana Prabodhini - Solapur

JPS has its own memorandum of association and rules and regulations
Income-tax assessment status :
JPS, being an educational organization is not assessed.
It is exempted under sec. 10(22) of the IT Act.
It is also registered under 12A of the IT Act.
Donations are exempted under section 80G of the IT Act, Ref. No

Income tax details :
Dist. Solapur, Ward /Circle : 2(1) Range : 2
Permanent Account No. (PAN) AAATJ088IC
Profiles of two responsible persons that lead Harali center

Dr. V. S. alias Anna Tamhankar, BCom MA MEd PhD
Trustee and Center In-Charge, Harali
Dr. Swarnalata Bhishikar, MA PhD
Trustee and Center Dy In-Charge, Harali
More details can be given as and when necessary. Here is an earnest appeal not only to individuals and firms but to Companies to contribute under CSR to the noble cause of education and rural development.