NGOs
Nana Palkar Smruti Samiti (NPSS)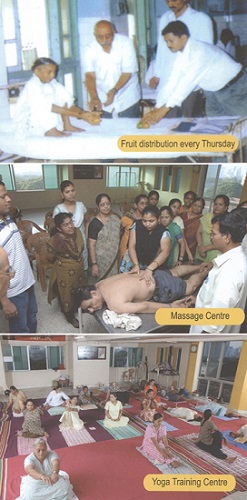 Nana Palkar Smruti Samiti ( NPSS) is a non-government Organization dedicated to give relief to sufferings of poor patients and their families. The Samiti provides services as listed below to poor patients from our ten storied building " Rugna Seva Sadan" located at Parel Since 1998.
We are active in providing following medical related services :
Free accommodation to 76 cancer & kidney patients.
Dialysis center at very subsidized rates for kidney patients.
Pathological laboratory for patients at very subsidized rates.
Lithotripsy center at Mumbai.
Free medicines to poor patients
Free lunch / Fruits to poor patients in various hospitals.
Other activities for helping poor patients.
We earnestly request you to consider financial help in achieving our goal. On hearing from you, we shall be pleased to meet with you and give you detailed information about the Samiti and its activities.
About the Organization :
Our Organization was established in memory of Shri Nana Palkar, who was a selfless illustrious social worker. Our management comprises of private citizens, who do selfless work for the benefit of needy patients.
The motto of the Samiti is "RUGNA SEWA = ISHWAR SEWA. Our location is in close proximity to the hospital area of parel Mumbai, which has Tata Memorial Cancer hospital, KEM hospital, Wadia hospital etc. Every day hundreds of patients and their relatives come to these hospitals from all parts of our country. Some find roof above them, but many are compelled to take shelter on footpaths, surrounding these hospitals, under adverse weather conditions. Samiti has its own ten storied premises and provides a "Home Away From Home" to poor patients coming to Mumbai. Many a times, this is a bewildering and a traumatic experience for the ailing patients as most of them are poor and are visiting Mumbai for the first time. They do not have friends or relatives to guide. However the Samiti helps them to overcome many hurdles by providing low/free of cost accommodation close to the major Hospitals and assisting them for their needs.
Our accounts are audited every year and submitted to the statutory authorities.
Samiti is having various activities for the poor and needy people they are :
1. Rugna Sewa Sadan :
Provide residential accommodation to 76 patients accompanied by two relatives totaling to 228 persons who are visiting Mumbai for medical treatment at various hospitals especially Tata Cancer Hospital, at free/nominal cost. Canteen facility is made available to them in the Sadan at cheapest cost.
2. Madhu Aushadh Pedhi :
The Samiti provides financial help to patients undergoing treatment at various general hospitals towards medicine & pathology tests. Samiti spends nearly Rs. 3 lakhs per month towards this cause.
Free medicines are given to patients suffering from tuberculosis. Dr. Kamalakar G. Kulkarni , chest specialist conducts a free OPD on every Friday when he examines patients and advises the medicines. Nearly a sum of Rs. 1.5 lakhs is spent every month on these patients by the Samiti.
3. Annapurna Scheme :
Free food is supplied to the patients and their accompanying persons who cannot afford to pay for the same. These beneficiaries are staying in the sadan. Besides, 40 mothers who are accompanying with child patients at Wadia Children Hospital, Parel; 25 mothers accompanying with child patients at J. J. Hospital pediatric Dept.; and escorts of poor patients at Nair Hospital are provided with free lunch every day. Also these mothers and OPD patients at Tata cancer hospital are provided with tea, coffee, milk, biscuits, banana every day.
4. Fruits Distribution :
Samiti provides fruits to the patients on every Thursday through their volunteers at T. B. Hospital, Sewree, Indian Cancer Society. Rehabilitation Centre, Parel and Wadia Children Hospital, Parel (around 1100 Patients).
5. Prabhakar Kutumb Kalyan Kendra :
Prabhakar Kutumb Kalyan Kendra, a Consultation centre is run by the Samiti for the guidance of HIV/Aid patients & Dialysis patients. Trained Councilors' are extending necessary guidance /consultation in person.

6. Blood Donation Camps :
Blood donation camps are arranged every year for Tata Cancer Hospital & Nair Hospital by the Samiti. Our volunteers also do voluntary blood donation as per demand from various hospitals in Mumbai.
7. Ambulance :
Ambulance sewa is extended free of cost to the indoor patients for commuting Tata, KEM, Wadia Hospitals. Outside services are extended at concessional rate.
8. Lithotripsy Centres :
Removal of kidney stone without operation are extended by the Samiti at – Aditya Lithotripsey Centre, Matunga at concessional rate. Deserving patients are treated free of cost.
9. Dialysis Centre :
On failure of both the kidneys, dialysis treatment is necessary. Samiti's Gokhale Dialysis Centre at Parel is equipped with 13 dialysis machines catering to needy patients in three shifts. The charges are very nominal as compared to outside Centers.
10. Pathological Laboratory :
A full fledged equipped pathological laboratory named "Tulsiani Speciality Laboratory" is functioning at Rugna Sewa Sadan, Parel. Almost all Blood tests are carried out. The costs of the tests are much lesser than outside laboratories. Tests for CD-3, CD-4 (HIV related) are carried out with nominal costs. Deserving poor patients are treated at free of costs.

11. Dispensaries :
An in house dispensary called "Nana Palkar Chikitsalay" is run by the Samiti for patients and their relatives staying in the premises, and nearby residents. Another dispensary called "Dr. Lavekar Dispensary" is run in Parel close to Tata Hospital. In both these dispensaries poor patients are treated free or at concessional rates.
12. Borivali & Thane Centres :
Samiti carried out multi dispensary polyclinic, supply of medical equipments at its Borivali and Thane Centers at a nominal rent.
13. Other Activities :
Samiti has extended services of Massage training centre and Yoga Activities in the Sadan.
All above mentioned activities are meant for needy people of India who visit Mumbai for medical treatment . Our activities are more or less to be consider as supplement to the Government obligation towards Society.
14. Due to all the activities as described above, we earnestly APPEAL to you as follows.
Without the efforts of dedicated workers, Social Community Projects cannot succeed. Along with committed individuals, sufficient funds are a pre-requisite without which the activities cannot be sustained with the unstinted cooperation of generous persons; we have grown up in strength from our modest beginning.
A personal visit to our Rugna Seva Sadan, will facilitate to comprehend the activities more elaborately.
We request you to visit our Samiti and observe various activities run for the needy and poor people for the first hand review of the aforesaid and consider financial help.

An appeal for donation to Nana Palkar Smruti Samiti (NPSS)
It is our pleasure communicating to you for a noble cause of our Organization.
NPSS was establishment in 1968 and is contributing in a humble way alleviating the pain and suffering of cancer patients and also chronic disease like TB who come to Mumbai for treatment and with great hope from all over India.
We at Rugna Seva Sadan offer offering free accommodation, food and transport to the Hospital at nominal charge, we try and help them in a small way.
Under the guidance of a great philanthropist and visionary, the late Dr. Ajit Phadke ( recipient of Dr. B. C. Roy award ) we have extended our help also for kidney patients requiring dialysis, lithotripsy, pathology laboratory and many other facilities.
It is our humble request to you to support this noble cause through your Corporate Social Responsibility clause.
We are registered under section 12 A ( a) of the Income tax act, Mumbai and also registered under section 80G (5) of Income tax act. We are also registered under notification no. s.o.2545 ( E) dated 6th October 2009 under section 35AC of the Income tax act 1961 for the Corpus Fund for the years 2015-2016, 2016-20174 & 2017-2018.
We would like welcome you to visit our center and appreciate our efforts and facilities offered, your contribution is of great value to us and will go a long way in achieving our goal.
Get in touch with Nana Palkar Smruti Samiti (NPSS) for further information, support and donations :
Address :
Rugn Seva Sadan, 158, Rugna Seva Road, Dr Babsaheb Ambedkar Road, Next to Nare Park, Parel, Mumbai 400012
Phone :
022 - 2416 4890, 24102167, 24186724
Email :
nanapalkar15@gmail.com
website :
www.npss.org