Resources
Health Check-up & Electronic Health Record for Students and Staff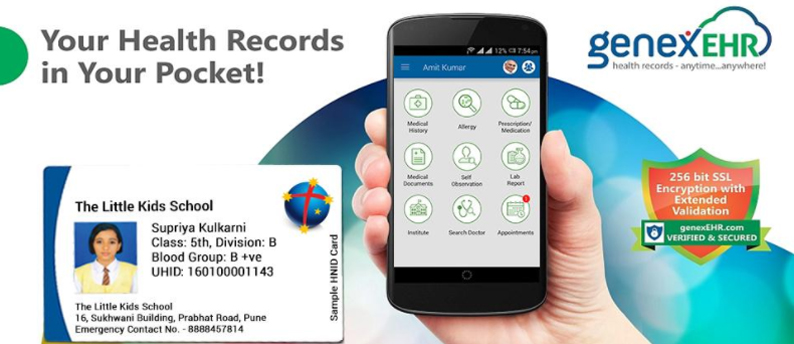 Health Check-up & Electronic Health Record Management Programme of students and Staff members by Genex Healthcare, Pune
Health Programme is a commendable effort in the direction of identifying health problems and cultivating healthy habits among children. We at Genex Healthcare provide Medical Check-up of students, Electronic Health Records via application to Institute and Mobile App for parent which containing the health records of students.
About Genex Healthcare Private Limited :
Genex Healthcare has a focus on maintaining Electronic Health records for individuals which is shared by care providers like Doctors, Labs, Diagnostic centres, hospitals or uploaded by individuals with its simple to use App and Web applications.
We want to make the Healthcare IT systems efficient and widely available which will help create a superior experience for all i.e. Individuals, Doctors, Hospitals and Institutes. We believe in making technology an asset to the Healthcare space by making it user friendly and available anytime anywhere.
About GenexEHR :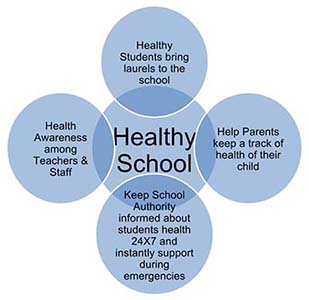 GenexEHR is a platform specifically designed to securely transmit and store the health information of individuals. The doctors and individuals can access the application using multiple devices like tablet, smart phone, laptop.
GenexEHR is a cloud based Health Record platform keeping individual in focus and to serve public at large. The GenexEHR Health - ID Card along with Health Check-up and medical tests can be given to all students and employees.
Health Check-up :
Team of doctors (Male & Female) which will carry out medical exam as prescribed under your Education board or University coveringbasic GP, Dental and ENT check-up.
Customized ID + Health cards :
Student ID Card will consist of a co – branded plastic card with the necessary information being printed on the card. These cards can be used in clinics and hospitals which are on the GenexEHR platform.
Electronic Health Record Management System For Organisation :
Application is provided to empanelled doctors and Institute to enable them to complete the health check-up. Application also provides Health analytics and Reports.
Mobile App :
For parents/guardians to access, store and share health and medical data of their children and family member's . Parents can further use the application to store all the medical records.
Health is a state of complete physical, mental and social well-being. To ensure good health for our children, health programme are conducted every year as per the direction of University and Department of Health & Family Welfare.
Annual Health Checkups are being done at Education Institutes and Universities and is being recorded on physical papers that adds to the filing and maintenance of these records or sometimes digitally available as an offline document which is difficult to trace during critical hour / emergency.
Regulatory Highlights : Affiliation bye-laws of the Central Board of Secondary Education (CBSE), Chapter VI, Point # 23 (xxv) mentions that "The school has to arrange periodical medical examinations of the students and share medical reports to parents or guardians."
Benefit to Institute :
Promotes Health Environment in Educational Institute.
The institute, parents and doctors can access children's health record (24x7). This information can be very useful during emergencies helping doctors take better decisions.
The associated doctor/nurse at the school can update health incidences of students which are seamlessly shared with parents.
Statistics and analytics of the health data is available to the institute.
Helps in compliance of school bye laws by conducting periodical health check-ups / medical examinations of students & sharing reports with their respective parents / guardian.
More over the records are digitally available, reducing the paperwork and can be easily traced and shared.
Benefit to Students and Parents :
Parents can access the Medical Examination Records carried out by the Institute using their smart phone.
They can act on the diagnostic by sharing information with their doctor for further treatment.
Parents can upload existing medical records, medical history and self-observations of their child. No need to carry medical files to each doctor.
Parents can share specific information with another doctor for second opinion.
Parents can search doctors using GenexEHR mobile app.
Health Checkup Activities -




GenexEHR Offering :
Customized Health + ID cards.
Health Check – up.
Dashboard for Hotel organisation.
Mobile App for staff.
Following the health check-up, the report may be obtained by parents on "GenexEHR App". This App is free of cost & available on Play store.
The health information like declaration form, health check-up report and daily first aid episodes of all students will be available to the school via GenexEHR Management System that will help in preventive diagnosis of the health problems. This will truly assist for the all-round development of children. "Healthy India, Happy India" is what we truly believe and therefore we always strive on implementing various beneficial activities for our children.
Attaching here with, the company's proposal & presentation which would help you get more details about the company and their offering.