Talk on Corporate Social Responsibility
by Mr. N. R. Narayana Murthy, Chairman Emeritus, Infosys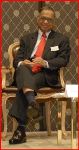 on the occasion of award by Chirmule Pratishthan
at Pune on 29th March 2013
Dr. Vijay Bhatkar, Mr. Kumar Ketkar, Mr. Arun Godbole, Mr. P. N. Joshi, Shri S. Bhosale respected members of the trust, jury, students, ladies and gentleman a very good evening. It is truly an honour to receive this Puraskar which has been conferred upon greats like our Prime Minister Dr. Manmohan Singh, Dr. Anil Kakodkar and Dr. Vijay Bhatkar among others. I am grateful to the management for having chosen me for the prestigious Chirmule Puraskar.
Photo by Richter Frank Jurgen
Source : Wikimedia Commons
A few words on W.G. Chirmule
On this occasion, it is important that we remember Annasaheb Chirmule for his
immense contribution to Satara and India. Shri Annasaheb Chirmule was indeed a pioneer in the banking and insurance industry in Maharashtra and India. He envisioned the need of an insurance company as early as 1913. He founded the United Western Bank, one of the commercial banks in united India way back in 1936. He was also a believer in equitable growth in India, where every citizen has the right to pursue his or her dream. Therefore, on this occasion, it is fitting to share my thoughts on corporate social responsibility and how we can contribute to create a better India.
India today
For the first time in the history of India, in the last 400 years, our country has received the attention of the world. India is projected to be one of the leaders fuelling global economic growth in the years ahead. We are expected to grow at 5.5% which is much faster than the growth in developed economies. From a paltry 15-day supply of foreign exchange in 1991, we have more than US$ 300 billion in foreign exchange reserves. India is also ranked the second most attractive destinations for foreign direct investment (after China) in the world. We are the 52nd country among 144 nations in the global competitiveness index. We occupy the high-table in most major multilateral deliberations. Youngsters in India are full of confidence and enthusiasm.
However, there is another India where the story is challenging. More than 400 million people live at less than one dollar a day. We have the largest mass of illiterates in the world. Our primary healthcare system is woefully inadequate. More than 50% of rural schools have just one teacher for every two classes. We are ranked 136 among 187 countries in the Human Development Index.
Clearly, much needs to be done to improve the condition of the vast majority of our people. As business leaders and as corporates we have the responsibility to repair this situation.
I believe that the power of wealth is in giving it away. We have to transform the pursuit of 'more' to the fulfillment of 'better for all of us'. We have to create an India where more and more wealth is created while human dignity is enhanced. Let me briefly tell you how each one of us can be socially responsible.
As Corporations
Corporations should not just achieve their economic goals, but also, as Prof. Philip Kotler says, "To fulfill the responsibility of doing good". The good that a corporation must do is defined in its philosophy of corporate social responsibility (CSR). CSR encompasses the ideas of corporate governance, sustainable wealth creation, corporate philanthropy and advocacy for the goals of the community. Longevity and success for a company comes from living in harmony with the context, which is the community and society. Society contributes customers, employees and investors for a corporation. It contributes politicians and bureaucrats who frame policies that influence the success or failure of a corporation. Therefore, society is an important stakeholder for corporations. Corporations must remember that businesses cannot succeed in societies that fail. The need therefore, is to create companies which want to make a difference to the context through society-oriented and charitable activities. For instance, the philanthropic activities, the direct and indirect employment provided by Infosys have helped us earn the goodwill and trust of the society in which we operate. To effectively contribute through philanthropic activities, corporations need to partner with NGOs and development groups. This is because though organizations may have the financial resources, they may hardly have the time or focus to sustain programmes that cater to society's demands. Infosys, for example, supported Akshaya Patra for a lunch program in schools. This initiative is the largest NGO-led lunch program in the world and feeds 1.3 million school children every day in India. Through the Infosys Foundation, we have also helped create libraries for underprivileged children in 15,000 villages across India, have provided scholarships to thousands of children, built hospitals, rehabilitated children, sex workers, and destitutes, and supported cultural activities.
The role of corporations should not be just restricted to addressing events of despair; they should aim at a full development process of planned change, aimed at lasting improvements in the quality of lives of people-at-large. Corporates can help in providing entrepreneurial management in the form of marketing, financial foresight, legal assistance, technical expertise to social ventures. They can support social entrepreneurs in these areas so that the latter can focus on expanding the scope of their work. For example Grameen Phone was a product of collaboration between Telenor, a leading Norwegian telecommunications company and Grameen Bank, a product of social entrepreneurship. While Telenor brought in the technological and management expertise, Grameen Bank provided an in-depth understanding of the Bangladesh economy along with credit to the poor for purchasing these phones. The resultant was the creation of new opportunities for income generation through self-employment. This is how corporations can help societies become more productive, entrepreneurial, competitive and global as our value-driven businesses. As William Ford Jr. said, "A good company delivers excellent products and services. A great company does all that and strives to make the world a better place."
Role of business leaders
It is in this context that business leaders like us have to take the lead in encouraging and promoting philanthropy and compassionate capitalism in our society. I believe that we have all at some time eaten the fruit from trees that we did not plant. In the fullness of time, when it is our turn to give, we must in turn plant gardens that we may never eat the fruit of, which will benefit the generations to come. Therefore, it is our responsibility as business leaders and the privileged few who have enjoyed the fruits of India's growth to redistribute wealth and enable our community to grow. Though there are a growing number of rich Indians participating in philanthropy, there is much room for improvement. For example rich Americans donate up to 9.1 per cent of their income on an average to charity. We are miles away at 3.1 per cent. Changing this requires us to stand up, unite and solve our problems as a country to raise the aspirations of our fellow citizens. As Robert Kennedy once said, "Each time a man stands up to improve the lot of others he sends forth a tiny ripple of hope."While every citizen of India has a role to play in this, corporate leaders have to become front-runners.
We can do so by bringing in entrepreneurial acumen to philanthropy. We have to show measurable results and carefully assess social investments. In this context, social entrepreneurs, play an important role in transforming the socio-economic system. For example, Paul Basil, the founder and CEO of 'Villgro', dreams of a prosperous rural India through social enterprise. His organization helps transform innovative entrepreneurial ideas into reality. From the last 11 years Villgro has helped create 64 innovators and over 3800 jobs in rural India. Villgro wants to help create a virtuous cycle of rural entrepreneurship which will encourage further innovation and wealth creation in rural areas. As progressive business leaders, we should help enable such enterprises by contributing in the financial infrastructure and in building necessary support systems. I am sure every leader in India has the brilliance, vision, ambition and dedication to help make this country a better place.
Finally, for the young friends seated here; you must remember that you are the future of India. You have to inculcate the habit of sharing. You are citizens of India where philanthropy and volunteerism have long been an integral part of society. The concept of daana goes back to the Vedic period. You have to spearhead the process of regaining those days of social activism.
I believe that the battle for inclusive growth must be fought collectively with all our resources and in partnership. If we fail to act today, we are at the risk of endangering the well-being of generations to come. I am reminded of a quote by German martyr Dietrich Bonhoeffer: "Action springs not from thought, but from a readiness for responsibility". I am confident that people from all sectors – the government, civil society and business will take responsible action to create a better India.
Thank you.