CSR initiatives of Tata Power
Tata Power empowers women through Self Help Groups (SHGs) in Kutch Region of Gujarat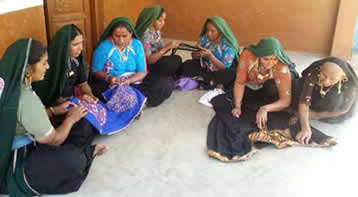 Today, the Kutch region of Gujarat is representative of the synergistic relationship between corporates and communities working in tandem to facilitate holistic rural development. This is a major step forward as not too long ago, in the absence of developmental activities, the local communities of the region were solely dependent on grazing livestock or fishing to earn their livelihood.
Like any other part of India, here too women were dependent on the men of the villages for basic needs pertaining to their survival. Formation of self- help groups (SHG) have completely changed this scenario by successfully introducing varied models of community development in the villages of the region. Tata Power, with the support of reputed non-profit organisations and field operatives, have helped bring about a real change in the lives of the communities; with a special focus on women.
The primary function of such groups is to form, join and manage various group activities while offering relevant technical support to help the group take on their new roles. This helps in facilitating a healthy and conducive environment for the local community. These groups are also strengthened through banks and market linkages, thus facilitating social security among the society at large. Corporates working with such groups have also encouraged the formation of federations to undertake developmental activities in the region.
How it started

The first SHG was started at Modhva with 22 women members. At the start, an exposure visit was organised to another functional SHG in Durgapur village by Vivekananda Research Training Institute (VRTI) – the training partner. Subsequently, 2 SHGs were formed with 20-25 women in each with a monthly saving of Rs. 100. Initial assistance was provided by arranging meetings, collecting money, maintaining records and depositing money in bank accounts, amongst other support extended. Women were trained in all these aspects and now manage the groups themselves.
Similar partnerships between NGO UJAS Mahila Vikas Sangathan and corporate partner Mundra UMPP was also formalised to initiate developmental activities in Tragadi Bunder related to forming SHG.
Another successful partnership is between NGO Aga Khan Rural Support Program India (AKRSP(I)) and corporate Mundra UMPP which is aimed at achieving various livelihood facilitating objectives and undertaking different livelihood activities as well as holistic development of the village.
Benefits to members
Gender equality and empowerment of women is very significant in achieving development and progress of an area. Women SHGs aid personality development of the members and reduce gender prejudice by improving access to information and knowledge. SHGs have been successful to ensure equality in decision making, empowerment of women, equality in status, access to choice, reduced drudgery, improved literacy and increased awareness generation and the access to Right to Information (RTI).

The members of the groups have access to loans for their various needs such as :
Housing
Cattle purchases
Education fees
Capital for small businesses
Medical purposes
Family events and marriages
Transport and vehicles
The community has now access to better knowledge and is empowered through :
Better knowledge and expertise on effective savings
Financial inclusion and banking services
Increased savings and improved employment opportunities
Capital for small businesses
Formal credit linkages