ITC Limited Corporate Citizenship
e-Choupal : Rural digital-physical infrastructure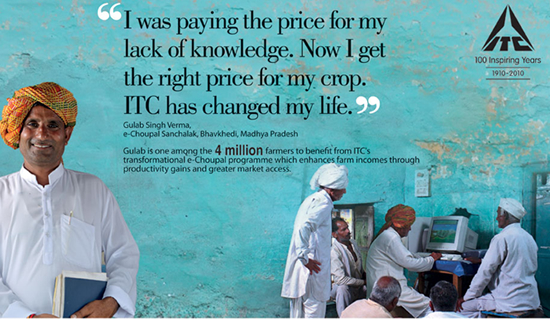 In 2000, harnessing the empowering force of information technology and its scalabilty, ITC launched e-Choupal - a knowledge portal providing farmers with a range of information and services. Designed to enable them to bargain collectively and enhance their transactive power, e-Choupal became the much needed and easily adoptable tool farmers had been waiting for. Today e-Choupal is a vibrant and rapidly growing zone of business and interaction for over 4 million farmers.
Today 4 million farmers use e-Choupal to advantage - bargaining as virtual buyers' co-operatives, adopting best practices, matching up to food safety norms. Being linked to futures markets is helping small farmers to better manage risk. e-Choupal has been specially cited in the Government of India's Economic Survey of 2006-07, for its transformational impact on rural lives.
ITC's strategic intent is to develop e-Choupal as a significant two-way multidimensional delivery channel, efficiently carrying goods and services out of and into rural India. By progressively linking the digital infrastructure to a physical network of rural business hubs and agro-extension services, ITC is transforming the way farmers do business, and the way rural markets work.
The network of 6,500 e-Choupal centres spread across 40,000 villages has emerged as the gateway of an expanding spectrum of commodities leaving farms - wheat, rice, pulses, soya, maize, spices, coffee, aqua-products. The reverse flow carries FMCG, durables, automotives and banking services back to villages.
Social & Farm forestry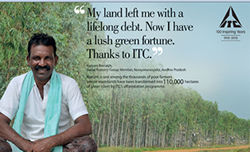 ITC's social & Farm forestry program emerged in response to its challenge to source effective pulp wood from sustainable sources to enhance its competitiveness. Instaed of taking easier route to importing pulp, ITC innovatively leveraged it's pulpwood requirements to provide sustainable livelihood opportunities to poor and tribal marginal farmers, by assisting them to convert their private wastelands into productive pulpwood plantations. High yielding, disease resistant and site specific clones are developed in ITC's research center.
This program has not only created sustainable source of livelihood for a large no. of disadvantaged sections of society but has also bought in a multiplicity of benefits by creating a large green cover that contributes significantly to groundwater recharge, soil conservation and carbon sequestration.
Integrated Watershed Development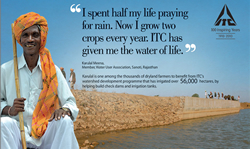 Recognising the vital role that role plays in the rural economy, ITC promotes watershed projects in waterstressed areas providing precious water resources for agriculture and rural communities and livestock. Based on a participatory approach, the programme facilitates building, reviving and maintaining water harvesting structures as well as management of water resources to reverse land degradation, provide critical irrigation and increase agricultural productivity.
The phenomenal example of this was the Ranjangaon ara near Pune district in Maharashtra, it was under severe draught during kharip season of 2009 with virtuallyno rains in the project area, farmers and cattle were adversely affected. ITC's watershed programme became the only source of livelihood for more than 350 farmers who participated daily in the work.
In another first of its kind agreement in the country, ITC signed MOU with the government of Maharashtra to implement NREGA in 2 blocks of Jalna district on an integrated watershed programme basis covering 50 villages.
Integrated Agricultural Development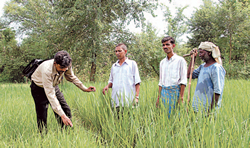 The programme promotes a combination of solutions for optimizing water management and enhancing farm productivity. Farmers are motivated to form agri-business centers, enabling them to pool knowledge and resources, have access to quality inputs on time and improve productivity and quality.
A total of 20 agri-business centers provided timely agri-iputs to around 1077 members.
To help farmers capture additional value from their holdings, ITC promoted crop diversification with good market linkages. Organic spces, medicinal and aromatic plants were promoted under this initiative.