CSR initiatives of Visaka Industries Limited
Skill Development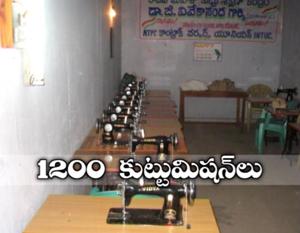 Providing employment opportunity to unprivileged rural youth has always topped the agenda in the community intervention projects of Visaka Industries and especially to the youth belonging to SC/ST community from Karimnagar and Adilabad districts. The prevalence of unemployment among youth in these areas is relatively high. Thus, we believe that imparting skills and enabling the youth employable would help in uplifting standard of living of this disadvantaged community. Based on this, Visaka Industries had initiates various skill development projects aiming at providing employment to the youth belong to SC/ST and the poor families. Donating sewing machines to the poor families, mobilizing youth for skill training and giving them job placement with various companies are the example for such initiatives.
Donated 1100 Sewing machines for poor families at a cost of Rs. 27,50,000/-
Under CII Skill Development in Affirmative action funded the cost of training 33 SC/ST unemployed youth in Construction related skills and supported the project to the tune of Rs. 2,50,000/-. All beneficiaries after the training were successfully placed with the industry.