Case Study - CSR initiatives of Forbes Marshall
Special Projects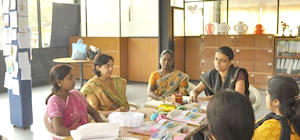 In spite of India producing some of the best doctors, engineers, computer programmers, academicians and managers for the world, we have a literacy level of only around 60% in the country, with women's literacy being much lower. Hence it is essential to be involved with basic primary level education in India. We also believe in the philosophy that when we educate a woman, we educate a family.
We have special projects for creating awareness amongst the community members and educating them. Some of our special projects are:
TARANG - Training for Adolescents on Reproductive Health and Gender. The TARANG program provides adolescents with opportunities to develop their communication skills, attentive listening, negotiating, decision-making, being assertive and identifying resource for help and advice. TARANG helps equip young people to differentiate between accurate and the inaccurate information, discuss a range of moral and social issues and handle problems related to adolescence.